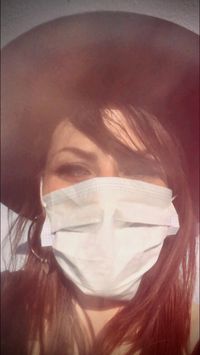 I'm gonna get straight to the point here. 
My niece reached out to me because she is a registered nurse in Manhattan and she's currently on the front lines of this gargantuan pandemic that's exploded with cases there. She's seeing first hand that nurses and doctors don't have enough personal protective equipment ( PPE) to deal with the huge number of cases that have and are continuing to flood in to the hospitals. Out if sheer desperation and necessity she took it upon herself to start a campaign asking everyone to please donate any masks, gowns, booties and PPE they have ( if they have any) and also any funds with which they can to help the medical staff there. She and all the medical personnel are doing an inhuman level of work to try to save lives and they urgently need our help in whatever way we can give it. I know that we are all having to count our pennies right now. I personally lost 3 jobs I was counting on so I know of what I speak, however if we could all make a donation however large or however small to help these people we need to do it. It's the least we can do. They're out there right in the middle of this while we get to stay home away from it. Staying locked inside presents its own challenges but compared to what they're dealing with it's pretty kush. I'm not going to rag here on the Gov. & lack of support and supplies because that is self evident. Hopefully that will improve soon but in the meantime there is something we can each do to help them. Attached is the info for her campaign. She is an incredibly honest, loyal, brilliant and creative human being and ALL donations go directly to the staff and hospital workers. I typically don't trust when someone asks me for donations, I'm one of those people who has to research any cause I'm thinking of supporting butI I can personally guarantee that any funds or supplies you can donate go DIRECTLY towards helping the medical staff and patients. PLEASE help her to help these incredibly brave people who are risking their lives to help others. 
Please have a look at it, read it and please donate here I Love you all very much and In writing this am sending each and every one of you reading this my love and heartfelt gratitude. 
Please share the link far and wide! 
I will write more later but as this is a very time sensitive issue I wanted to get it up and posted as quickly as possible. 
Thank you 
I Love you guys 
XO 
F