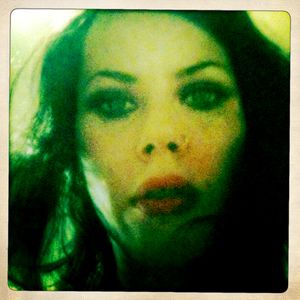 Well, Spring has definitely arrived in all of her splendor in California. We have had the craziest rains, more rain than there's been in many years. The reservoirs are once again full and nature is just exploding in all her glory everywhere you look. I am especially happy to see that some of the wild flowers that were endangered are back namely wild blue lupines. I'm seeing them all over, on sides of freeways,growing in empty lots, in people's gardens and even some in my own garden. I found a hummingbirds nest that had been discarded or perhaps dislodged by the winds. It is the tiniest most exquisite example of the brilliance of these tiny marvels. Imagine having to build and weave your home with your mouth and your feet alone?! Pretty amazing engineering. They wove tiny thistle down into tiny balls then wove them together and coated the outside in tiny pieces of wood, bark and grass. It is a tiny work of art that I will always treasure. 
I am also very happy to have two new Tee shirts that we are offering on my site that I hope you will like as much as I  enjoy designing them. As you know I am an Artist and these Tee shirts help to support my endeavors in Art and Music. I am so grateful to all of you who have shown interest and support to me. It has given me a lot of confidence and pride to see that you like my artwork and music for what it is, not just because I am also an actor. I have come to a very clear realization. I want to put my focus, my energy into creating Art that I love, that I believe in and that I truly enjoy making. With your support I am hoping to be moving forward on some of the goals I have had for years but that I had to put aside. After last year I think I had to take some time to heal, to regroup after so many personal losses. I know this was the case for many of us. These kinds of life changes really affect one deeply and in order for art to come through you, you have to allow time to process. I feel finally like I am coming through it, the doors are beginning to open again as I have been writing new music, drawing and designing new work for both sculptural and painted /mixed media work. 
The other day a friend on twitter mentioned that he had been in a creative rut. 
We all find ourselves in these ruts from time to time. The biggest lesson I've been learning lately is that when you find yourself unable or unsure as to how to move forward, a good way to help get you through it is to just start doing, start experimenting without any expectations. It's not something that I do easily as I am by nature a perfectionist and very harsh judge of my own work. If you work/play solely with the intent of exploring, you open yourself up, give yourself room to just explore and have fun. Remember fun? Yeah exactly. I love that saying " Dance like no one's watching". It's that feeling applied to whatever form of creativity you choose. It's been working well for me. 
Normally autumn is my favorite time of year but this spring has been so beautiful it might just take 1st place. I know in many places winter has decided to extend itself way beyond the beyond dumping snow and crazy weather on tons of folks. Hopefully that is now out of the way for those of you reading this who've been experiencing that! I hope that wherever you are spring is finally arriving for you too. 
Ok, I guess I will sign off for now as this wee note got rather longer than intended! 
Many thanks again for your love, your support, your friendship, and your ideas and feedback. You guys are the BEST! 
Much Love 
F